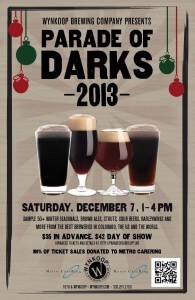 A holiday tradition, the highly anticipated Parade of Darks is a showcase of beers in the amber to opaque categories. Featuring over 80 beers from 35+ breweries, this event raised over $14,000 for Metro CareRing last year. Participating is sure leave you feeling warm and fuzzy, as your ticket gets your a commemorative glass for unlimited sampling, and 100% of the ticket price will be donated.
Metro CareRing is Denver's largest hunger-relief organization directly serving families.  In addition to providing nutritious food to hungry people, Metro CareRing also works to tackle the root causes of hunger and malnutrition.  Using a multifaceted approach, Metro CareRing is an innovative leader in addressing problems related to hunger, with programming offered in hunger relief, healthy living and nutrition education, self-sufficiency, and supportive services.
Parade of Darks 2013 Beer List
AC Golden: 2012 Whiskey Barrel Aged Imperial Stout, Dark Fruit Sour Frambois Noir.
Arvada: Jolly Holiday Ale- Spiced Winter Warmer, Pool Hall Porter- Brown Ale
Avery: Out of Bounds Stout, Old Jubilation- Winter Strong Ale, The Czar
Black Bottle Brewery: Carlos – American Brown, Liquid Metal -Imperial Rye Stout,
Cerealiously – Cinnamon Toast Crunch Milk Stout
Breckenridge: 72 Imperial Double Chocolate Cream Stout, Christmas Ale, Vanilla Porter, Oatmeal Stout
Bristol Brewing: Laughing Lab Scottish Ale, and Winter Warlock Oatmeal Stout.
Crazy Mountain: Cara De Luna-Black Ale, Snowcat Coffee Stout.
Copper Kettle: Mexican Chocolate Stout, Black IPA , Pecan Smoked Brown Ale
Crooked Stave: Origins- Barrel Aged Burgundy Sour, Nightmare on Brett-Sour Baltic Porter
Denver BeerCo: The King of Jacks- Imperial Pumpkin Ale, Graham Cracker Porter
Dry Dock: Shotgun Russian Imperial Stout, Urca Vanilla Porter, 3 Heavy Wee Heavy
Elevation: Little Mo' Porter, Avis IV
Epic: Smoked Porter, Double Skull Doppelbock, 825 State Stout, Big Bad Baptist
Fort Collins Brewery: Double Chocolate Stout, Smoked Rye Porter
Funkwerks: Oud Bruin, Dubbel.
Gravity: Ante Meridiem – Espresso Stout, Jubileum – Belgian Peppercorn Ale,
Ebb & Flow – Double Red Rye, Tsar Bomba – Russian Imperial Stout
Great Divide: Oak-Aged Yeti, Yeti, Claymore Scotch Ale, Hibernation
Green Flash: Double Stout
Grimm Brothers Brewing: Fearless Youth – Munich Dunkel, Master Thief – German Porter, Devil's Riddle – Bourbon Barrel Old Ale.
Left Hand: Wake Up Dead-Russian Imperial Stout, Milk Stout
Mission Brewing: Dark Seas-Imperial Stout, Shipwrecked Double IPA, Carrack Imperial Red
Mountain Sun Cat Bugler – India Black Ale, Big BOI BOB – Imperial Milk Stout
Odell: Isolation, Mountain Standard
Odyssey Beerwerks: Perpetual Darkness Belgian Black, Psycho Penguin Vanilla Porter
Our Mutual Friend: Cottonwood Rauchbier – Smoked ale, Huckleberry Roasters Coffee Stout – Dry stout, Winter Warmer Randalled w/ bourbon soaked cherries & oak chips – Old ale
Phantom Canyon: Snowblind Imperial Stout, Zebulon's Peated Porter- Cask, Squirrel and the G-Man- Stout aged on cocoa nibs
Renegade: Hammer & Sickle- Russian Imperial Stout.
Santa Fe: Santa Fe State Pen Porter, Imperial Java Stout, Black IPA
Ska: TBD
Strange: Jack Stout, Cherry Bomb Stout, Gingerbread Man brown ale
Tommy knocker Legend- 20th Anniversary Olde Oaked Brown Ale, Cocoa Porter- winter seasonal brewed with cocoa porter and honey.
Twisted Pine: Big Shot Espresso Stout, Hoppy Knight
Upslope Christmas Ale, Brown Ale
Verboten: Mountain Man-Imperial Dark Cream Ale, Rum Barrel Aged Pure Imagination, Double Oatmeal Stout aged in a Dancing Pines Rum Barrel, What Hump-Sour Porter.
Yak & Yeti : Chai Milk Stout, Yak's RIS-Imperial Stout
Wasatch and Squatters: Polygamy Porter, The Devastator Dopplebock, Squatters Outer Darkness Stout, Wasatch Winterfest.
Wynkoop: Gingerbread Stout- Imperial Sweet Stout, 2013 Whiskey Barrel Aged Barley Wine, Coconut Milk Stout, Brewjolais Noveaux 2013-spontaneously fermented sour beer made with marash chile peppers, cuit la coche, and foch grapes.