ANNOUNCING: Wynkoop Mile High Mix 12 pack box. Late December 2013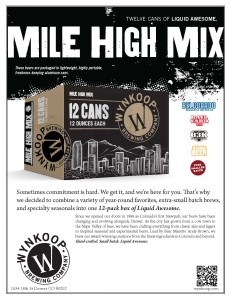 Friends, family, countrymen and esteemed beer community:
We have been very busy expanding our outside distribution and getting more of our beers into cans, and now we are excited to announce the addition of a 12-pack box to our Wynkoop line-up. The Mile High Mix Pack will feature the favorites Railyard Amber Ale, B3K Black Lager, Belgorado Belgian-style IPA, as well as rotating seasonals and selections from our Even-Smaller Batch collection.  In short, 12 cans of Liquid Awesome.
Contact our champions of beer for questions/orders
Matt Labate: matt@wynkoop.com
Dan Appel: dan@wynkoop.com
Brewers office: 303.297.8842