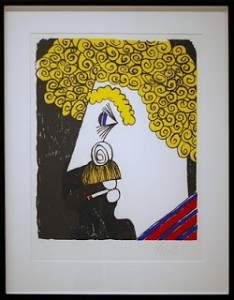 Who better to start us out on the story of Kurt's Mile High Malt than the late author himself?
(Passage taken from Timequake, the semi-autobiographical work of Kurt Vonnegut):
"On September 6th, 1996, Joe and I opened a show of twenty-six of our prints in the 1/1 Gallery in Denver, Colorado. A local microbrewery, Wynkoop, bottled a special beer for the occasion. The label was one of my self-portraits. The name of the beer was Kurt's Mile-High Malt. You think that wasn't fun? Try this: The beer, at my suggestion, was lightly flavored with coffee. What was so great about that? It tasted really good, for one thing, but it was also an homage to my maternal grandfather Albert Lieber, who was a brewer until he was put out of business by prohibition in 1920. The secret ingredient in the beer that won a Gold Medal for the Indianapolis Brewery at the Paris Exposition of 1889 was coffee!" -Kurt Vonnegut
So how is it that Wynkoop came to have a Kurt Vonnegut beer? Well, it wasn't long after our founder-turned-Governor John Hickenlooper got to talking with Kurt that the two men realized their connection. John's dad was a fellow Delta Upsilon fraternity brother at Cornell with Kurt. As John's dad died when he was seven, Kurt was able to to fill him in on some stories from their fraternity days (something about a turtle club and "Hickenlooper's Lockenbar," but we'll leave it to your imagination). The recipe for Kurt's Mile High Malt was actually the brainchild of  Kurt's grandfather Albert Lieber, who was the owner and brewer at the original Indianapolis Brewery. Kurt got to know his former classmate's son and eventually the Vonnegut recipe changed hands.
As Kurt puts it "Old beer in new bottles. Old jokes in new people."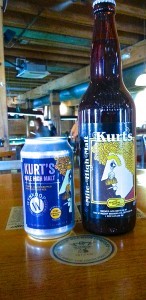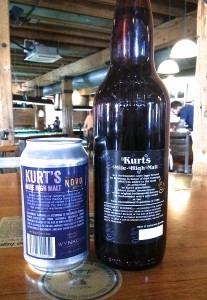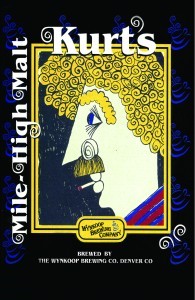 As mentioned in the passage above, Kurt's Mile High Malt was first brewed at Wynkoop in 1996 using Kurt's self-portrait for the label artwork.  The beer was not brewed again until 2007 when it was brought back in honor of Kurt's passing, then in 2013 it was revived once more as a part of the Wynkoop's 25th anniversary celebrations.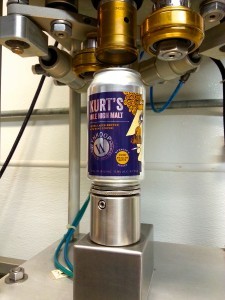 As there are too many beer-lovers, history buffs, and Vonnegut enthusiasts to ever let Kurt's Mile High Malt get tucked into the recipe vaults for too long,  it is being brought back by popular demand. We are releasing Kurt's Mile High Malt once more on 4/20/14. For the first time, this beer will be available in hand-labeled cans as a part of our "Even-Smaller Batch" series. Hand-labeled, hand-canned, and hand-crafted, the cans will include the original artwork, staying true to the unique history of the beer and the Vonnegut legacy.
Click here for the full Sale Sheet and beer description: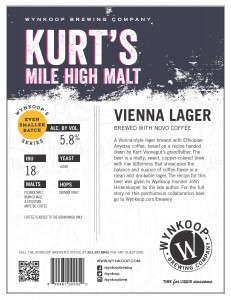 ***(Note: This history of events has been collected from Kurt Vonnegut's own writings, anecdotes from people who were around or involved at the time, and old newspaper articles. If you have more information, or believe anything to be incorrect please contact us, we would love to hear from you!)***